A Guide to Japan for Kawaii and Food Addicts
Day One:
We touched down in Tokyo late the night before, trying to find our way with no wifi and two large suitcases was indeed a challenge. I definitely recommend, if you take an AIRBNB like us, to learn your itinerary by heart before landing on a land where finding help, is more of a challenge than hard-chore algebra.
Waking up to sunny Tokyo, we decided to simply get lost in Shinju-ku, since it was the closest to our apartment.
After walking for 5 minutes in the inhumane humidity, we stumble upon a Takoyaki "restaurant".
I became crazy, "Oh my god, it's that thing you cook on cooking mama with the octopus in the middle!!". Yup, that was my reference to those delicious balls.
These things are definitely a must when it comes to Japanese street food. But beware! Let them cool down for a while!! Except of course, if you desire a fully burnt mouth for the next 3 days (can you smell the experience there?).
Continuing our stroll, we end up in one of the crowded streets of Shinju-ku, where we found a toy shop... uh, I mean pet shop. Needless to say, if the puppies weren't only 2 months old, we would have brought back this lovely puppy, that we accordingly named: Takoyaki.
He was a toy poodle and my life in now incomplete without his tiny face.
Moving on,
We took a picture in front of a random shrine, because sending pictures of cultural stuff to your parents is always a good idea.
Please keep in mind that every single picture taken was taken under excruciating sweaty conditions, so please excuse our faces.
Day Two:
I have to, warn you, if I were to mention each and every time I forced my delightful boyfriend to enter a stationary, Hello Kitty, Sanrio shop etc... this article would never end.
I did take a picture, when I was back home, of my queen size bed overflowing with ONLY stationary, false lashes, colored contact lenses, pens, stickers, plush animals/pokemons, folders, cute souvenirs and of course, make up.
May the world excuse me, that picture was taken with snapchat, and it didn't seem to save himself in my stories*eye roll*
Anyways, on day two, we visited the Government building which offered an amazing view on the city! AND it has a totoro shop on the top floor AND at the time we were there, there was a whole Studio Ghibli expo!
For some of you who have no idea of what I am talking about, Studio Ghibli is the Japanese animation film studio where allllllll the masterpieces such as My Neighbor Totoro, Kiki's Delivery Service, Spirited away etc etc, where created. So, quite an amazing expo.
Hours later, we hoped on the impressive Shinkanzen (bullet train) to go to Kyoto.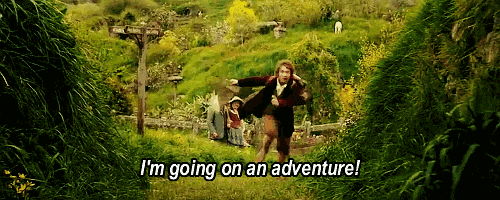 Day Three:
Our Airbnb in Kyoto was in the lovely neighborhood of Inari. Firstly, Tokyo vs Kyoto is quite a scenery change. Kyoto is very very authentic and "less modern", with its historical architecture and people walking around in their gorgeous Kimonos. Inari was quite a peaceful place and a real gift four us, foodies, since every shop or restaurant makes everything from scratch and almost right in front of you. It was over there, in that very authentic place, that I had my very first bowl of Udon.
That was one of my very favorite dishes, it was pure comfort food! We loved it so much that we went back to that same place two days later.
On our first complete day in Kyoto..... we left to Nara!!!! Looking back with my boyfriend, that was our favorite day in Japan!
The incredible fact about Nara is that its inhabitants live with deers.
Yupp!!! Those adorable guys!
So when you there, you usually do as all tourists do, you hike through the forest of Nara, alongside all those adooooorable deers. Along the way, you will encounter people selling food for them. Do not worry, it's perfectly safe for the deers! You can also find food for them in the beverage dispensers!
But the coolest thing is that before you give food to a deer, you have to bow to them twice, and they have to bow back...twice!!! Its absolutely adorable and gorgeous to see and experience! The connection you suddenly have with what is usually such a wild and frightened animal... it's simply magical.
Here are some picture of that kewwwl day:
Foodies by now are probably snoring but I got something realllll good for you guys.
That day we went to a tinyyyy but like, the TINIEST restaurant ever, it was number two on trip adviser (the first was an Italian restaurant, not really the aim of the trip). And we ate, the most amazing, fluffy, buttery toro shirashi on the planet.
Toro, for those who do not know, is the fatty part of the tuna's stomach, (queue the "ewwwwww's). No no no no ,not ew, try it and fall in love with it. it was served on a bed of rice and holy hollies was it amazing.
Definitely a must if you go there!
Day Four:
On our fourth day in Kyoto...... we went to Osaka! It's a little more than 20 minutes away by train. We went there to see the aquarium and the street life, which so much people recommended we see.
To keep all of this short:
Aquarium was cool, whale-sharks were cool, penguins were very cool, and seals were very cute.
We asked Japanese people to take the picture above, they were very shocked that Raph wanted to put his head inside the whale-shark hahhaha.
Then we strolled around one of the main streets of Osaka, and if you are wondering what it might look like and why people find it so amusing, that is why:
It's basically the Disney Land of street food
Day Five:
And on the fifth day, they climbed a mountain.
YES YES YOU READ THAT RIGHT, I DID SOME SPORTS.
And did it in a thick as **** denim dress. Yup, kinda very proud about it.
If you were wondering, we climbed the moutain of the 1000 doors. It was long, hard, filled with stairs and big angles of inclination, no view, a baby shrine at the top and millions of huge a** spiders. BUT it was fun since we got to take gorgeous pictures.
Best part about this, was finally being able to use the red gate emoji.
Soon after that, covered in sweat, dirt and probably spiders, we took the Shinkanzen back to Tokyo.
Day Six, Seven and Eight:
To be very honest, the last days in Tokyo were spent getting lost in popular neighborhoods and walking until we couldn't anymore. BUT we did eat loads, including KOBE BEEF so here are only pictures of these delish things and other cute things.
PomPom Purin Cafe @Harajaku
PomPom Purin Cafe @Harajaku
PomPom Purin Cafe @Harajaku
Santa Monica Crepes @Harajaku
Santa Monica Crepes @Harajaku
Santa Monica Crepes @Harajaku
Manneken @Shibuya Station
Fresh sushi at 10am in a restaurant at the Tokyo fish Market
Kobe Beef @ Hakushu
Yoyogi park @ Harajaku
Yoyogi park @ Harajaku
Yoyogi park @ Harajaku
Turtle love at Yoyogi park @ Harajaku
One batch of 20 pancakes at Gramm
The infamous pericura pictures
Fav drink ever ever ever
With my childhood best friend Shin-chan
Thank you so much for reading this long article,
I hope you enjoyed it as much as I loved my trip,
This article was highly requested and I hope it was helpful to you if you are planning a trip,
Thanks again for being here and supporting me,
Untill next time my lovelies
xx
GM
#japan #trip #kawaii #stationnary #adventure #foreign #view #food #foodie